Sectional garage doors are made of multiple panels that slide up when opened. They have become an extremely common and well-loved style of garage door in recent years, thanks to their aesthetic appeal and functionality.
At Dandenong Garage Doors, we offer sectional garage doors in Melbourne in a variety of different designs, styles and colours, from our colorbond range to timber-style doors to varieties with powder coat or metallic finishes. We even create and install bespoke garage doors for those needing something more specific to suit their home.
You can download our colour chart, to see our full range of options available and ensure that your sectional garage door matches your home design. (Note: colours vary to brochure).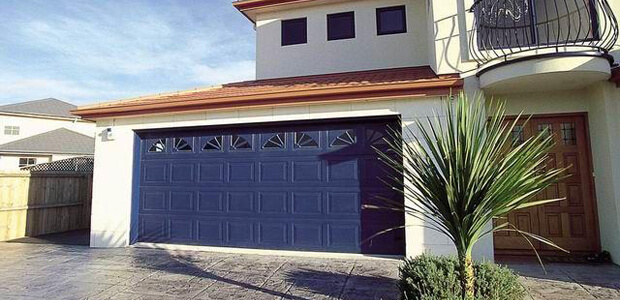 We have a colour chart available to help you perfectly match your new garage door colour to the colour of your home.

Benefits of Sectional Garage Doors

One benefit of sectional doors is that they can be fitted into areas with minimal headroom space. (This is the room between the lintel and the lowest part of the ceiling). While roller doors can require up to 500mm of headroom space, sectional doors only requires around 250mm, making them an ideal option for homeowners with limited room.
An additional advantage of sectional garage doors is that, unlike one-piece tilt doors, they do not swing forward into the driveway. This means that you can park your car right up against your sectional garage door without worrying about it getting damaged by a door that opens up into it.
Our commercial sectional doors can be motorized with high-cycle motors. This enables them to be operated by on-site safety systems (like the fire system), which would open the door and leave it open in the event of an emergency. It would only shut once being reset, allowing all tenants to exit as needed.
The sectional doors that we design at Dandenong Garage Doors come in eight standard patterns, with the option of a smooth or textured finish. That being said, we also offer more extensive additions for those after a truly unique sectional garage door.
All of our sectional doors are able to be manufactured with custom features for a fully personalised garage door. A popular customisation we offer is cladding the face of the door with any sort of material including timber, aluminium composite, glass, or even more commercial applications such as perforated claddings (which allow ventilation for airflow). We can also add window highlights to many of our door patterns, which allow for natural light and enhance the overall design appeal.
Have a custom sectional garage door design in mind? We can work with you to manufacture a sectional garage door exactly suited to your design and size specifications for your property! From design to delivery and installation in Melbourne and Mornington Peninsula, we will work with you to provide the best garage door solution.
The sectional doors that we design at Dandenong Garage Doors come in eight standard patterns. with the option of a smooth or textured finish.
We supply the widest range of garage door styles and leading brands.
Sectional Garage Doors FAQ's
What is a sectional garage door?
A sectional garage door consists of multiple door panels (sections). When in operation they slide back inside the garage and rest parallel to the ceiling. Sectional garage doors are a popular choice as they are versatile in design, functional, offer great curb appeal and are ideal for garages with limited headroom space.
How does a sectional garage door work?
The sections of door panel retract back inside the garage and rest near the ceiling, parallel to the roof. Sectional garage doors do not swing forward into the driveway giving you extra room to park vehicles close to the closed door. Sectional garage doors are ideal for homeowners with limited room.
How much is a sectional garage door?
The price of a sectional garage door will vary based on factors such as the size, type of hardware required (e.g. headroom equipment) and the materials or additional design elements you choose, such as windows. A sectional garage door installer will be able to give you an exact quote.
When were sectional garage doors invented?
Sectional garage doors were invented in the early 1900s. The first person to manufacture and sell sectional doors was C.G. Johnson who founded 'Johnson's Overhead Door Company' in 1921. Many enhancements have been made since then, giving you the quality sectional garage doors installations available today.
Can you buy replacement panels for a garage door?
Yes, you can buy replacement panels for your sectional garage door. Contact your garage door installer to get the correct panel. It is best to leave the installation of new or replacement panels to the professionals, as an incorrect installation could lead to damage more expensive than the panel replacement.
Our sales team are experts in garage doors and will take the time to understand your needs.