Garage Roller Door Installation Frankston

Peter, a regular client of Dandenong Garage Doors Melbourne, recently got in touch with us about putting a garage door on the front of a carport on one of his Frankston properties. Peter booked in for an inspection and quote and our friendly sales representative, Brett, travelled to meet him on site to discuss what garage door options were available for the carport.
Peter was originally unsure if it would be possible to install a garage door on the front of the carport as there was limited room on the sides to fit the door. After inspecting the carport, Brett was able to inform him that our installers could add posts to give it the fixing room it required.
After a brief discussion about possibilities, Peter opted to go with a Roller door as there was already one installed at the rear of the garage, so a second one would tie in perfectly. He then selected the Deep Ocean COLORBOND® steel to match the colour of the existing rear garage door and façade of the property. The garage door was bound to look great and fit seamlessly on the carport, as well as providing the homeowners with additional privacy and security
Just a few short weeks after the door was ordered and manufactured, Dandenong Garage Roller Doors installation specialist, Angelo, went on site and installed the Roller Door.
To give the installation a more polished look, Angelo put cappings over the posts in the same colour as the garage door, and an infill fascia at the top of the garage door to close the gap at the top.
The finished product looks fantastic and the homeowners are incredibly happy with the final product and quality of work carried out by Dandenong Garage Doors Melbourne.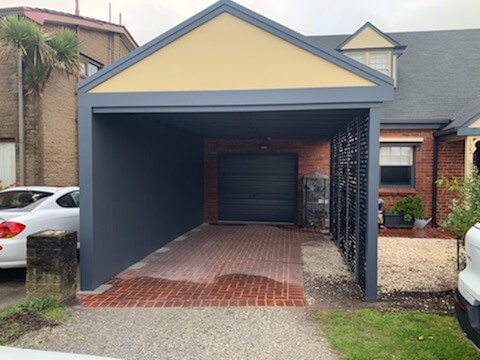 Our sales team are experts in garage doors and will take the time to understand your needs.